Magic Piano by Smule
2.8.7
An Engaging and Interesting Piano Game
Piano is one of the most soothing musical instruments ever and a lot of people would love a chance to learn how to play the piano. Piano is a difficult instrument to master since it works on muscle memory and requires you to understand the differences in keys and how each key has a particular tone. The time for which you hold on to a key matters too and there are so many intricacies in playing a piano that it seems almost impossible to get it right. However, professionals make it so easy by playing the piano so casually which can create the wrong perception amongst the minds of many. While playing the piano maybe difficult, there are online apps which can help you recreate the piano tunes on your mobile phones without the need to learn how to play the instrument itself. Magic Piano by Smule is one such piano game which offers its users this exact opportunity.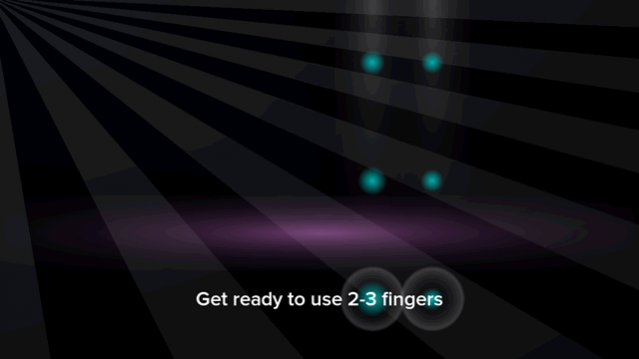 The Piano game is great because it starts with a tutorial in order to get you attuned with how the game is played. This is a fantastic feature as it helps give the user an idea about how the app approaches playing the piano virtually while also teaching you how you can create piano tunes using the app. The app allows one finger touch, two finger touch and three finger touch control in order to create tunes on the virtual piano while following the tuning points appearing on the screen. Tapping on the each point as and when they come is how you can make the tunes and the app lets you know it all during its starting tutorial.
Magic Piano by Smule is basically a piano game that doesn't give you a true sense of how a piano is played. It only helps you in recreating popular tunes on the piano by letting you tap on the tunes appearing on the screen. You won't be able to learn how to play the piano with this app as it is not a piano teaching app but rather a piano game.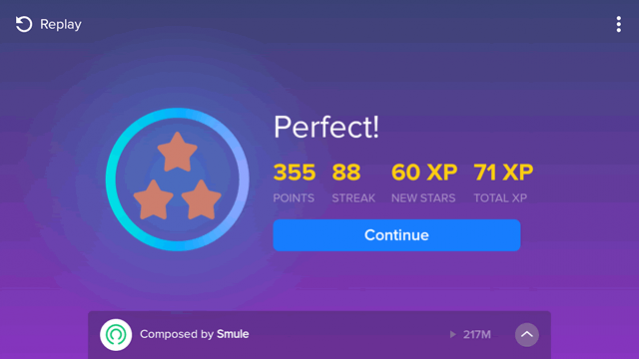 The app's homepage is the Songbook where you will be displayed all the suggested songs whose piano tune you should try to emulate. Some songs can only be played when you reach a certain level while some can be played from the beginning. Once you tap on a song, it would download the main tune of it online and then take you to the playing page where you would have to tap on the tunes just like you were taught in the tutorial.
The gameplay for the piano game is interesting as it not only plays out every note but also gives you instructions when you start going too fast or too slow. It also gives encouragement if you are going well which is a great touch. The background color is black which is frustrating and the app doesn't give you an option right away to change the background color if needed. This is a feature that needs adding in order to make the piano game even more fun.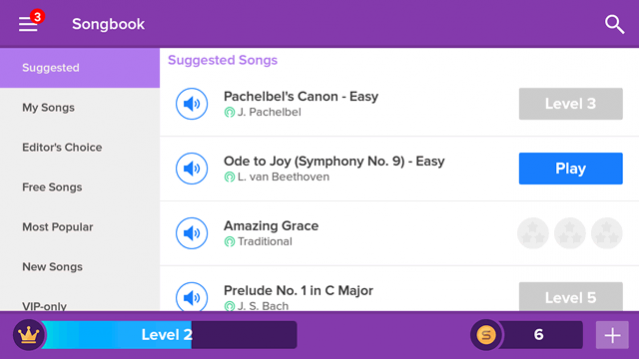 The songs available are in such a high number that you are bound to find ones you have always dreamed of playing. With the songs divided into various categories and a search option also available, you can easily browse through and find whichever song you want to play. You can also listen to the piano version of these songs which is brilliant.
Features:
Fantastic tutorial which introduces you to the gameplay very well
Variety of songs available for listening and playing
Seamless gameplay
Conclusion:
Magic Piano by Smule is an engaging piano game through which you can listen to your favorite song's piano versions and get a chance to try to emulate similar tunes as well. If you love piano versions of songs, this is a great app for you!
---
Add a review
Tell us your experience with
Magic Piano by Smule
2.8.7
RELATED PROGRAMS
Our Recommendations
---
---
---
---